We had a beautiful day of tennis, fun and fellowship. Stay tuned for November 2, 2024!
The Tennis Tourney will again be held at the beautiful tennis facility at Summit Greens in Clermont.
SPACE IS LIMITED!  The event format remains the same with a field of 24 teams for morning mixed doubles and a combination of 24  Men's and Ladies' doubles teams in the afternoon.
It is recommended that you review information sheet and registration form prior to registering.  Guest lunch tickets are being offers at price of $5.00 each.
We are offering two options for registration:
ONLINE OPTION:  Review the registration tickets shown below to first select either Non-Summit Greens Resident or Summit Greens Resident section.  Next step is to select either a morning or afternoon player only or both is playing in the morning and afternoon sessions.
MAIL OPTION: Click on Tourney Information and Registration Form below. 
Print and complete the Registration Form and mail with payment made payable to GCCF to:
Attention: Laura Henry, GCCF,
PO Box 443,
Minneola, FL  34755
For further information you can email tennis@gccf.us or contact co-chairs, Susan Taylor at 407-257-9442 or Laura Henry at 407-325-5054.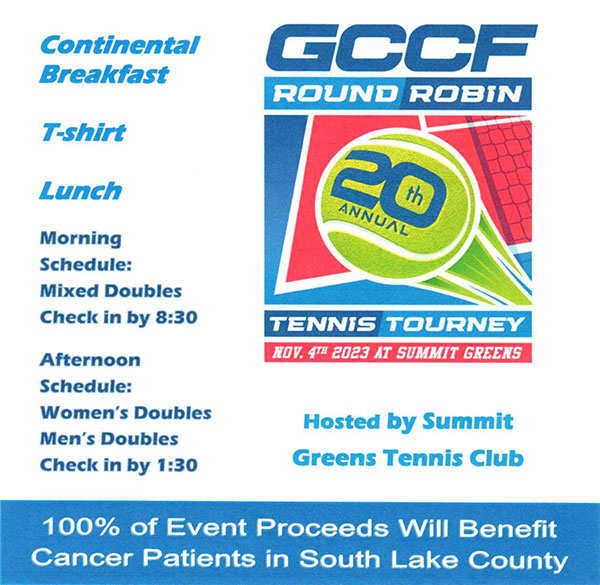 Non-Summit Green Residents
Player #2 (Partner) – Morning
Player #2 (Partner) – Afternoon
Player #2 (Partner) – Both Events
Summit Green Residents – Player #1 – Morning
Summit Green Residents – Player #1 – Afternoon
Summit Green Residents – Player #1 – Both Events
Summit Green Residents – Player #2 (Partner) – Morning
Summit Green Residents – Player #2 (Partner) – Afternoon
Summit Green Residents – Player #2 (Partner) – Both Events
Summit Green Residents – Lunch Guest